米国オバマ政権:「悪名高い」'Drone' をマリへ —'The New York Times'
2013年 02月 23日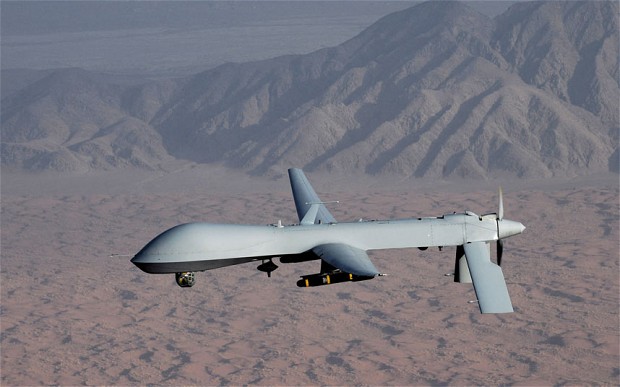 米国の「殺人ロボット」・無人偵察爆撃機 'Drone'
「対テロ」に手段を選ばぬ大国指導者たち
                              山上 真
  2月22日付の *'The New York Times' 紙に依れば、米・オバマ政権は、マリ隣国・ニジェールの首都 Niamey に 'Drone Base' 「無人偵察・爆撃機基地」を新たに設けることを発表したという。オバマ大統領の説明では、マリでの仏軍作戦を助ける目的であり、既にアフリカ西部ジプチに 'drone' の常設基地があるが、マリから3,000マイル離れて遠過ぎるため、新設することにした様だ。早くも 100人の要員が配置され、「アルカイダ掃討」の為、マリGaoやKidalで作戦中の仏軍との共同作戦を行う構えだ。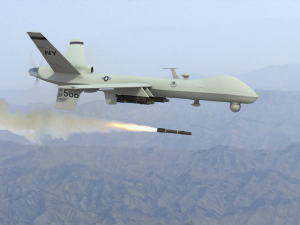 'Drone' については、つい先日2月5日、『ニューヨーク・タイムズ』・『ワシントン・ポスト』など全ての米国メデイアが、サウジアラビアに実在する米国 'drone'基地 について、二年間も「その存在を知りながら隠してきた」事実が*すっぱ抜かれたばかりだ。マス・メディアが「国策に協力して、重大な事実を隠匿」した典型的な「恥ずべき事件」として、記憶されるだろう。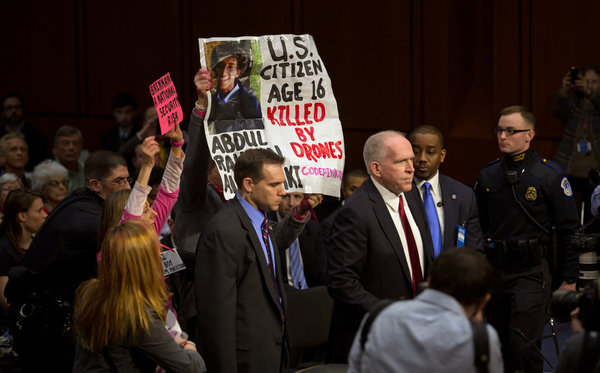 上院 'Drone' 公聴会 で「16歳の米国市民がdroneに殺された」と抗議される次期CIA長官
 更には、ロボット爆撃機に「人を殺させる」という非人間的な作戦は、米国内でも、その「危険性」故に、大きな憤激と反対論を惹起させている。この2月7日、米国上院「情報活動委員会」は、初めて 'Drone' 作戦のヒアリングを、次期CIA 長官 John O. Brennan を呼んで開いたが、その冒頭、この作戦に反対・抗議する数十人の人々が会議場で、' Assassination is against the Constitution!'
「暗殺は合衆国憲法に違反する!」とか、'Drones Fly Children Die' 「無人機が飛び子供が死ぬ」などと次々と叫んで、何度か公聴会が中断する騒ぎになった。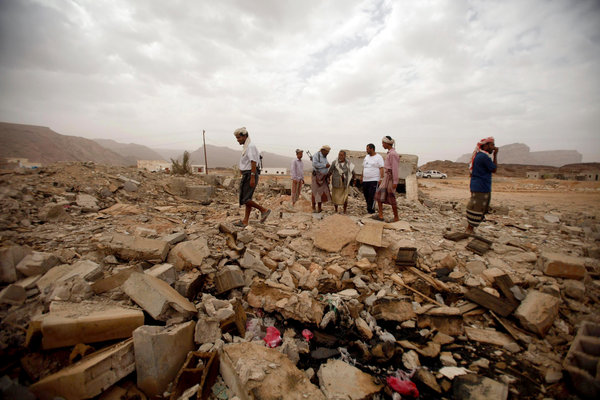 米軍 'Drone' 攻撃を受けて廃虚と化したイェーメン南東部 Shabwa の村落
 事実として、この 'Drone' 作戦は2004年以来、パキスタンで 2597人を殺害し、民間人780人を犠牲にしている。アフリカでは、西部ジプチ、インド洋セイシェル基地又は、サウジ基地から発進した 'Drone' がソマリアで 112人を殺害し、その内 57人 が子供だという。2010年ウガンダでは、一人の「悪名高い」テロリスト殺害の巻き添えで、サッカー観戦の市民74人が犠牲になったということだ。  
 この様な状況を見ても、これからアフリカで展開される「悲劇的現実」が容易に看て取れる。テロ撲滅という「大義」の為なら、どんな手段でも許されると大国の指導者たちが考えているとすれば、実にお粗末かつ重大な錯誤だ。  (2013.02.23)
<写真> The New York Times, Daily Telegraph       
                   <追記>
1. 米国政府はこの程、シリア「反政府勢力」への直接支援を抑制してきた政策を変えて、EU諸国と共に、反体制派武装勢力への直接的援助を開始することに決めたという。このシリア「反政府勢力」は、首都ダマスでの「爆弾テロ」実行など、その「勇敢さ」故にアルカイダが主導権を握りつつあるとされ、結局のところ、欧米諸国は、一方ではアルカイダ・テロと戦うと言いながら、他方では、「アルカイダを助長する」という、全く矛盾した「統一行動」を打ち出したことに、自ら気付かないのだろうか。 (2013.03.02)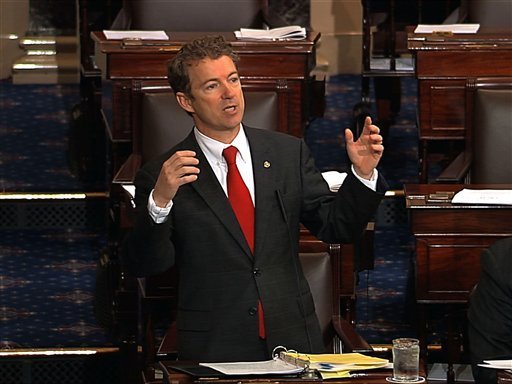 'Anti-Drone' で13時間以上の 'filibuster' を実行した Rand 上院議員          
2. 米国では今、 'Drone' 問題に「予想外の」注目が集まっている。
 ケンタッキー出身の共和党上院「自由擁護」議員 Rand Paul 氏が、オバマ大統領指名の次期CIA長官 John Brennan 氏・議会承認に反対して、13時間に及ぶ 'filibuster'「長時間議事妨害」を繰り広げたのである。
 Rand 氏の主張は、米軍が世界的に展開している'Drone' 攻撃を「誰にしているのか、明確な定義がない」ことを危惧し、特に、米国内で'Drone'を使用することは、「法の支配」を蹂躙する憲法違反だということだ。こうして、6日水曜日午前11時47分、 'I will speak until I can no longer speak' 「もはや話せなくなるまで話す」という冒頭発言と共に開始された 'filibuster' は、「Jane Fonda にミサイルを落とす気か?」とか、「Droneは敵を殺しては増やしている」などと述べ、延々と7日木曜日午前12時39分まで続けられた。
オバマ政権の「テロ対策」補佐官として、世界的な 'Drone' 作戦を指揮してきた John Brennan 氏のCIA長官指名に反対する議員は、Rand氏を含めて15人ほどおり、彼の行動に同調する議員も数人見られたという。しかし、オバマ大統領側は、すでに「指名可決」に必要な60議員を確保していると看做され、最終的にはそれを阻止することは出来なくとも、「米国全体に問題提起する」べく、今度の 'filibuster' となったようだ。
この「示威行動」は、全ての*全国紙の冒頭を飾る程の反響を呼び、Rand 議員の意図は達せられたと言えるだろう。 (2013.03.07)
                 <参考資料>
1. * The New York Times:「米国の存在を示すべく、ニジェールにDrone基地を開設」
February 22, 2013
U.S. Opens Drone Base in Niger, Building Africa Presence
By ERIC SCHMITT and SCOTT SAYARE
WASHINGTON — Opening a new front in the drone wars against Al Qaeda and its affiliates, President Obama announced on Friday that about 100 American troops had been sent to Niger in West Africa to help set up a new base from which unarmed Predator aircraft would conduct surveillance in the region.
The new drone base, located for now in the capital, Niamey, is an indication of the priority Africa has become in American antiterrorism efforts. The United States military has a limited presence in Africa, with only one permanent base, in Djibouti, more than 3,000 miles from Mali, where insurgents had taken over half the country until repelled by a French-led force.
In a letter to Congress, Mr. Obama said about 40 United States military service members arrived in Niger on Wednesday, bringing the total number of those deployed in the country to about 100 people. A military official said the troops were largely Air Force logistics specialists, intelligence analysts and security officers.
Mr. Obama said the troops, who are armed for self-protection, would support the French-led operation that last month drove the Qaeda and affiliated fighters out of a desert refuge the size of Texas in neighboring Mali.
Niger, one of the poorest countries in the world, signed a status-of-forces agreement last month with the United States that has cleared the way for greater American military involvement in the country and provides legal protection to American troops there.
In an interview last month in Niamey, President Mahamadou Issoufou voiced concern about the spillover of violence and refugees from Mali, as well as growing threats from Boko Haram, an Islamist extremist group to the south, in neighboring Nigeria.
French and African troops have retaken Mali's northern cities, including Timbuktu, Gao and Kidal, but about 2,000 militants have melted back into desert and mountain hideaways and have begun a small campaign of harassment and terror, dispatching suicide bombers, attacking guard posts, infiltrating liberated cities or ordering attacks by militants hidden among civilians.
"Africa Command has positioned unarmed remotely piloted aircraft in Niger to support a range of regional security missions and engagements with partner nations," Benjamin Benson, a command spokesman in Stuttgart, Germany, said in an e-mail message on Friday.
Mr. Benson did not say how many aircraft or troops ultimately would be deployed, but other American officials have said the base could eventually have as many as 300 United States military service members and contractors.
For now, American officials said Predator drones would at first fly only unarmed surveillance drones, although they have not ruled out conducting missile strikes at some point if the threat worsens.
American officials would like to move the aircraft eventually to Agadez, a city in northern Niger that is closer to parts of northern Mali where cells of Al Qaeda in the Islamic Maghreb and other militants groups are operating. Gen. Carter F. Ham, the leader of the Pentagon's Africa Command, visited the base last month as part of discussions with Niger's leaders on closer counterterrorism cooperation.
The new drone base will join a constellation of small airstrips in recent years on the continent, including one in Ethiopia, for surveillance missions flown by drones or turboprop planes designed to look like civilian aircraft.
A handful of unarmed Predator drones will fill a desperate need for more detailed information on regional threats, including the militants in Mali and the unabated flow of fighters and weapons from
2. *すっぱぬかれた:2月6日付英国「テレグラフ」紙 ー「米国メディアはサウジの無人機基地を2年間も秘密にしてきた」
The Telegraph  
US media kept Saudi drone base secret for two years
The revelation that the US has been operating a drone base in Saudi Arabia was kept secret by American media organisations for two years.
The Washington Post said several US media organisations knew of the drone base but abided by official requests not to disclose its location
By Alex Spillius, Diplomatic Correspondent
5:08PM GMT 06 Feb 2013
It only came to light after a blackout on reporting agreed by the media and the Obama administration was broken by two US newspapers.
The revelation that the US has been operating a secret drone base in Saudi Arabia for the past two years came after a blackout on reporting agreed by American media and the Obama administration was broken by two US newspapers.
The first pilotless CIA mission flown from the base killed Anwar al-Awlaki, a US-born cleric and senior figure in al-Qaeda in the Arabian Peninsula, and a deputy in September 2011, reports said.
Another Predator drone strike killed Awlaki's 16-year-old son Abdulrahman weeks later, though US officials claimed in the Washington Post that he was not the target of the attack.
The Washington Post said several US media organisations knew of the drone base but abided by official requests not to disclose its location because of the risk to counter-terrorism cooperation with Saudi Arabia.
Related Articles
White House to release legal rationale for drone killings 07 Feb 2013
US uses Blair defence to justify drone killings 05 Feb 2013The Post said that when it learned that another news organisation - the New York Times - planned to break the agreement, it decided to publish what it knew.
Greg Miller and Karen DeYoung of the Post said: "The Washington Post had refrained from disclosing the location at the request of the administration, which cited concern that exposing the facility would undermine operations against an al-Qaeda affiliate regarded as the network's most potent threat to the United States, as well as potentially damage counterterrorism collaboration with Saudi Arabia.
"The Post learned Tuesday night that another news organisation was planning to reveal the location of the base, effectively ending an informal arrangement among several news organisations that had been aware of the location for more than a year."
A Justice Department memo published by NBC News on Tuesday argued that Americans high up in Al-Qaeda could be lawfully killed, even without evidence they are actively plotting an attack.
President Barack Obama's decision to nominate John Brennan as CIA director has brought into focus the quasi-official lethal drone programme, which has killed an estimated 3,000 militants and civilians in Afghanistan, Pakistan and Yemen.
Mr Brennan faces a confirmation hearing in Congress on Thursday that provides critics a rare chance to question the ethics of using drone missiles.
3. *全国紙:3月7日付『ワシントン・ポスト』紙ー「ランド・ポールはジョン・ブレナンとオバマの drone 政策の反対してフィリバスターを行った」
The Washington Post
Rand Paul conducts filibuster in opposition to John Brennan, Obama's drone policy
By Ed O'Keefe and Aaron Blake, Updated: Thursday, March 7, 1:05 PM
One of the oldest and most storied traditions of the Senate made a sudden return to Capitol Hill on Wednesday when a junior senator seized control of the chamber with an hours-long filibuster involving rambling speeches aimed at blocking a vote on President Obama's choice to lead the CIA.
Led by Sen. Rand Paul (R-Ky.) with help from other junior senators, the filibuster stretched more than 12 hours and was aimed at drawing attention to deep concern on both sides of the aisle about the administration's use of unmanned aerial drones in its fight against terrorists and whether the government would ever use them in the United States.
Shortly before noon, Paul — the scion of a political family at the heart of the libertarian movement — came to the Senate floor and declared his opposition to the nomination of John O. Brennan, Obama's choice to lead the spy agency, who has overseen the drone program.
"I will speak until I can no longer speak," Paul said as he began. "I will speak as long as it takes, until the alarm is sounded from coast to coast that our Constitution is important, that your rights to trial by jury are precious, that no American should be killed by a drone on American soil without first being charged with a crime, without first being found to be guilty by a court."
The filibuster is legend and endlessly controversial in the Senate, but extended ones are relatively rare, especially in the modern-day Senate, where the chamber's rules are used more often to block legislation or to hold show votes on trivial matters. The modern filibuster usually deprives the majority of the 60 votes needed to end debate on a measure or a nomination. Brennan probably has the 60 votes to end a filibuster, which is why Paul's filibuster required him to actually talk.
Paul's talking filibuster was the first conducted by a senator since December 2010, when Sen. Bernard Sanders (I-Vt.) held the Senate floor for more than eight hours to oppose a tax-cut plan Obama proposed.
The record for the longest filibuster belongs to Sen. Strom Thurmond (R-S.C.), who spoke for 24 hours and 18 minutes beginning on Aug. 28, 1957, in opposition to civil rights legislation. During his remarks, Thurmond recited from the Declaration of Independence, the Bill of Rights, George Washington's farewell address and other historical documents.
As Paul spoke, a collection of security guards, Senate pages and tourists kept watch. During one stretch, a man responsible for operating the Senate television cameras was seen reading a newspaper.
Paul said he was "alarmed" by a lack of definition for who can be targeted by drone strikes. He suggested that many colleges in the 1960s were full of people who may have been considered enemies of the state.
"Are you going to drop . . . a Hellfire missile on Jane Fonda?" he asked at one point.
Repeatedly, Paul suggested that his cause was not partisan and not meant as a personal attack on the president — only on his drone policy. Concern about the administration's use of drones has been part of the debate on the left and the right, and that was reflected in some responses to Paul's filibuster.
Adding bipartisan credibility to the effort, Sen. Ron Wyden (D-Ore.) — the most outspoken liberal antagonist of the CIA — praised Paul for pushing Brennan to clarify whether the CIA could ever target Americans on U.S. soil.
"When I asked the president, 'Can you kill an American on American soil?' it should have been an easy answer. It's an easy question. It should have been a resounding, an unequivocal, 'No,' " Paul said. "The president's response? He hasn't killed anyone yet. We're supposed to be comforted by that."
"I would be here if it were a Republican president doing this," Paul added. "Really, the great irony of this is that President Obama's opinion on this is an extension of George Bush's opinion."
About 3 p.m., several other junior Republicans joined Paul from their seats in the far right corner of the chamber. By tradition, the most junior senators of either party occupy the far corners of the room, with the more tenured members sitting closer to the middle.
Under the rules, the senator from Kentucky was allowed to yield to another senator "for a question," but no rules mandate the form or length of the question. So Sens. Ted Cruz (Tex.) and Mike Lee (Utah) delivered long speeches in opposition to the drone program, sometimes stopping to ask Paul a question, other times going on for extended periods.
During his remarks, Cruz compared Paul to another famous — if fictional — senator.
"You're standing here like a modern-day 'Mr. Smith Goes to Washington,' " he said. "You must surely be making Jimmy Stewart smile."
Paul, Cruz and Lee spoke out against the CIA nominee from contiguous desks in the deep right corner of the room. Later, they were joined briefly by Republican Sens. John Barasso (Wyo.), Saxby Chambliss (Ga.), John Cornyn (Tex.), Mitch McConnell (Ky.), Jerry Moran (Kan.), Marco Rubio (Fla.), John Thune (S.D.), and Patrick J. Toomey (Pa.), all of whom voiced support.
Senate Democrats said they received no warning of Paul's intent to filibuster for most of Wednesday. Majority Leader Harry M. Reid (D-Nev.) had hoped to move Brennan's nomination to a final vote Wednesday, but aides said it would be moved to Thursday.
Brennan's nomination easily cleared the Senate Intelligence Committee this week, suggesting that he would have the 60 votes required to end Paul's filibuster and bring the nomination to a vote. He has gained the support of some Republican senators, even as others want to hold up his nomination in hopes of getting more answers from the White House about the deaths of four Americans in an attack on a U.S. diplomatic outpost in Benghazi, Libya, on Sept. 11.
Throughout the day, Paul conceded that Brennan would ultimately get the job.
"I don't know how long I'll be able to do this, so I can't ultimately stop the nomination," he said late in the afternoon. "But what I can do is try to draw attention to this and try to get an answer."
Paul Kane contributed to this report.