'TPP':「Obama政権下での議会通過は有り得ない」— 'The Washington Post'
2015年 12月 12日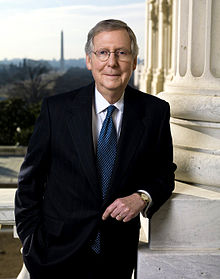 米共和党上院・院内総務 Mitch McConnell 氏        
米共和党上院・院内総務 McConnell 氏:「TPPはオバマの『引退置き土産』にさせない」
                              山上 真
 前回(11月21日付)拙著ブログで、'TPP'=「環太平洋経済連携協定」は、米国議会での「協定批准」見通しが暗くなっていることを指摘したが、これ迄オバマ政権と連携して、米国での「TPP牽引」役を務めていた上院共和党院内総務・*Mitch McConnell 氏が、一昨日「オバマ政権下でのTPP批准は有り得ない」という「爆弾発言」を物して、愈々決定的な段階を迎えるに至った。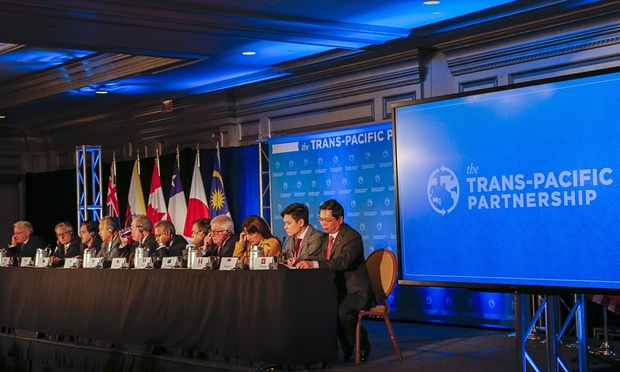 McConnell 氏は上院共和党の「指導役」を務める重鎮だけに、その発言は共和党全体の方向を左右することになる訳だが、12月10日付『ワシントン・ポスト』紙のインタヴューに応じた同氏発言の「重み」故に、これ迄 'TPP'に関する「否定的」報道を避けてきたかに見える我がマス・メディア — 『朝日』・NHK・『毎日』・『日経』・『読売』—なども、本日(12日)一斉に報じている。
  『ワシントン・ポスト』紙「政治欄」掲載の、
'McConnell warns that trade deal can't pass Congress before 2016 elections' —「マコネルはTPP が2016年大統領選挙前に米議会を通過することは有り得ないと警告」—<原文・参考資料2>
と題するインタヴュー記事の冒頭部分は次の通りである。
 「多数派上院共和党院内総務Mitch McConnell は10日木曜日、環太平洋諸国11か国との包括的協定は2016年選挙前、或はオバマ引退の前に議会承認に持ち込まれるべきではないと述べて、オバマ大統領の地球規模・通商協定日程に重大な打撃を与えた」
 「マコネル氏は、以前はオバマの貿易交渉力強化を支援していたのだが、この協定にどの様な投票態度を採るべきか決めていないと示唆し、もしオバマ政権が目論む様に、TPPが来年春か夏に議会に送られるならば、敗北するだろうということを明確にした」
 「もし大統領選挙前にこのTPP 採決が行われることになれば、重大な問題が生じることになり、オバマは大失敗を犯すことになるだろう」
 「TPP は、オバマ政権の『置き土産』として成立しなくとも、次の大統領が『再訪問』して、或は欧州諸国とのTTIP処理後に改めて取り組めるだろう。TPP を性急に処理するべきではないという自身の考え方は、オバマを助けて* 'fast-track' を共に支持した上院財政委員会議長 Orrin G. Hatch 氏も共有している。タバコ及び製薬会社が関わる条項に特に懸念を抱いているのだ」
 こうした状況について『ポスト』紙は、米国でのTPP 批准手続きが見通せなくなれば、或は協定の「再交渉」ということになれば、他の11か国の幾つかは、TPP参加を断念することも有り得るだろうとしている。
 日本では、安倍政権や財界・産業界、マス・メディアは挙って「TPP 実現」に狂奔してきた趣があるが、盟主・米国での新たな事態を受けて、ここで一先ず「頭を冷やす」必要に迫られることだろう。  (2015.12.12)
<注>
*Mitch McConnell
Addison Mitchell "Mitch" McConnell, Jr. (born February 20, 1942) is the senior United States Senator from Kentucky. A member of the Republican Party, he has been the Majority Leader of the Senate since January 3, 2015. He is the 15th Senate Republican Leader and the second Kentuckian to lead his party in the Senate.[1] He is also the longest-serving U.S. senator in Kentucky history.
*fast-track:今年6月、米国議会は'TPP'交渉権限をオバマ大統領に一任する法案を上・下院共に小差で可決した。
<写真> The Guardian, Wikipedia
                  <参考資料>
1. 'Forbes Japan' 2015/12/13 12:00
「TPP頓挫で『アベノミクス崩壊』の不吉なシナリオ」
Tim Ferguson , FORBES STAFF アジア太平洋の動向を担当。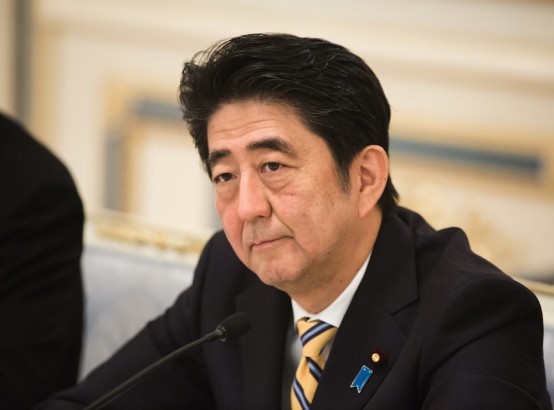 安倍政権発足から3年が経過したが、日本の経済状況は未だ不透明なままだ。高齢化に伴う公的債務の増大によって国家が沈む前に、政府は成長促進を目的としたマクロ政策を続けている。
第3四半期に再び景気が後退したなか、GDPの値に希望を見出すのは難しい。アベノミクスを推す人々は支持を続けているが、安倍首相の目標である「2020年度までに600兆円(インフレなしで現状の20%増)」の経済にするのは非常に困難だ。
もっと多くの女性が意義ある職業につき、高齢者を生活のあらゆる面で補助するような技術の進歩があったとしても、目標の達成は時間との戦いとなる。そしてそれは日本のポリシーメーカーたちの得意とするところではない。さらには、債務支払いの状況を変えるに十分なほど、日本銀行に円を急激に下落させる準備ができているかについても不透明だ。また、最大の貿易相手国である中国経済の成長が止まったことを考えると、日本の輸出戦略の先行きも見えない。
政治的には、これはまだ問題ではないのかもしれない。安倍氏率いる自民党は2012年に地滑り的勝利を得て以来野党を圧倒し、来夏の参院選でも勝利する可能性が高い。経済指標であるGDPはすべての人にとってのバロメーターではない。裕福な高齢者はコストが上昇さえしなければ、たとえ成長がもたついても許容することができるのだ。
日本企業がグローバルで収益を上げて株価が上昇を続ける間は、資産を持つ高齢者はさらに裕福になることができる。
そうした中、日本経済の再生のための大きな期待は、環太平洋経済連携協定(TPP)だ。これは日本の農業の保護障壁を壊す見返りに、新興国を先進国のルールや慣習に従わせ、日本が新しい市場にリーチするのを助けるものとなるだろう。
最近、私がモデレーターを務めたニューヨークの会合で、元朝日新聞社主筆で日本再建イニシアティブの理事長である船橋洋一氏は、日本経済の先行きに楽観的な見方を示したが、米議会で高まるTPPに反対する声(それは、民主党からだけではない)がアベノミクスを頓挫させる可能性にも触れた。
TPP締結が失敗に終わる可能性――、これは日本政府がどんな経済指標よりも恐れていることかもしれない。
編集=上田裕資
2. 'The Washington Post'
Politics
McConnell warns that trade deal can't pass Congress before 2016 elections
ー「マコネルはTPP が2016年大統領選挙前に米議会を通過することは有り得ないと警告」
By Paul Kane and David Nakamura December 10 at 6:19 PM Follow @pkcapitol Follow @davidnakamura
Senate Majority Leader Mitch McConnell (R-Ky.) dealt a significant blow to President Obama's global trade agenda Thursday, declaring that a sweeping pact with 11 Pacific Rim nations should not be sent to Congress for approval until after the 2016 elections — and maybe not until after Obama leaves office.
McConnell, who previously supported efforts to enhance Obama's trade negotiating powers, signaled that he was undecided on how he would vote on the deal, but he was clear that the Trans-Pacific Partnership (TPP) would be defeated if it were sent to Capitol Hill next spring or summer, as the administration was planning to do.
"It certainly shouldn't come before the election. I don't think so, and I have some serious problems with what I think it is," McConnell said in an exclusive interview with The Washington Post. "But I think the president would be making a big mistake to try to have that voted on during the election. There's significant pushback all over the place."
McConnell's resistance to moving the pact casts doubt on whether Obama will be able to secure approval for the largest such trade deal ever considered, and one that the president had hoped would be among his final legacy-burnishing efforts. A year into his new role, McConnell also sought to more broadly tamp down expectations for any other breakthrough legislative accomplishments — "I'd be surprised" — before Obama finishes his term in January 2017.
His remarks were the bluntest public statement of doubt on the TPP's prospects from Republican leadership, which has offered little support since the administration announced in October that a final deal had been reached among the 12 nations.
The White House had hoped that the GOP's strong support in June for "fast track" trade legislation, which granted Obama additional powers to complete the pact, would ease the path for final ratification by forging a partnership between the president and his Republican rivals. Obama has championed the trade pact despite fierce opposition from most Democratic lawmakers, labor unions and environmental groups.
"Yeah, I think it would be a big mistake to send it up before the election," McConnell said in the interview. He noted that the trade authority Congress approved also gives the next president fast-track authority to secure global deals throughout the first term of that administration. "The next president, whoever that is, will have the authority to either revisit this one, if it doesn't pass, or finish the European deal or other deals, and give Congress a chance to weigh in on it," McConnell said.
Under the terms of the fast-track legislation, Obama must wait 90 days after the announcement of the final TPP agreement before signing the pact and sending it to Congress; that could happen by Feb. 4. Lawmakers would then work with the administration to determine when a vote would take place. Obama aides have said that could come by late March at the earliest.
"We will continue working with Congressional leaders to pass the Trans-Pacific Partnership as soon as possible next year," Brandi Hoffine, a White House spokeswoman, said in an email Thursday when asked about McConnell's comments. "We don't see any reason to delay the 18,000 tax cuts [through tariff reductions] on Made in America exports in TPP that will benefit our workers and businesses. Our competitors, including China, aren't standing on the sidelines on trade, we shouldn't be either."
But McConnell, who said Thursday that he has relayed his concerns to Obama, is joined in his questioning of the deal by Sen. Orrin G. Hatch (R-Utah), the Senate Finance Committee chairman, who was also a key supporter of the fast-track legislation. They have raised particular concerns about provisions related to tobacco and pharmaceutical companies.
Kentucky is one of the nation's largest tobacco producers, and Utah has a growing pharmaceutical industry.
Their concerns have dampened enthusiasm among other Republicans, and the debate over trade policies on the 2016 campaign trail has also muddied the prospects for the TPP. Several top contenders for the GOP presidential nomination, including front-runner Donald Trump and Sen. Ted Cruz (Tex.), have denounced the pact, and all of the Democratic candidates, including Hillary Clinton, oppose it.
Even if a more establishment-friendly Republican who supports trade deals emerges as the GOP nominee, the politics of approving the TPP are not likely to significantly improve. The presidential primary race could effectively be over by April, but most states will only then begin to hold their primary contests for congressional seats.
<後略>
3. 'The Sovereign Investor'ー「80%株式大暴落が2016年に起こりそうだ、と経済学者は警告」ーこれと同じニュースを 1月11日付 'Nasdaq' が報じている。
'DOW to Drop 80% in 2016'
thesovereigninvestor.com
80% Stock Market Crash To Strike in 2016, Economist Warns
BY JL YASTINE January 7, 2016
Several noted economists and distinguished investors are warning of a stock market crash.
Billionaire Carl Icahn, for example, recently raised a red flag on a national broadcast when he declared, "The public is walking into a trap again as they did in 2007."
And the prophetic economist Andrew Smithers warns, "U.S. stocks are now about 80% overvalued."
Smithers backs up his prediction using a ratio which proves that the only time in history stocks were this risky was 1929 and 1999. And we all know what happened next. Stocks fell by 89% and 50%, respectively.
Former congressman Ron Paul didn't mince words either. He warns that the stock market's "day of reckoning" is fast-approaching. When that day comes, he doesn't think it's just going to be a correction; it will be "stock market chaos."
But there is one distinct warning that should send chills down your spine … that of James Dale Davidson. Davidson is the famed economist who correctly predicted the collapse of 1999 and 2007.
Davidson now warns, "There are three key economic indicators screaming SELL. They don't imply that a 50% collapse is looming – it's already at our doorstep."
And if Davidson calls for a 50% market correction, one should pay heed.
Indeed, his predictions have been so accurate, he's been invited to shake hands and counsel the likes of former presidents Ronald Reagan and Bill Clinton — and he's had the good fortune to befriend and convene with George Bush Sr., Steve Forbes, Donald Trump, Margaret Thatcher, Sir Roger Douglas and even Boris Yeltsin.
They know that when Davidson makes a prediction, he backs it up. True to form, in a new controversial video, Davidson uses 20 unquestionable charts to prove his point that a 50% stock market crash is here.
Most alarming of all, is what Davidson says will cause the collapse. It has nothing to do with the China meltdown, Wall Street speculation or even the presidential election. Instead, it is linked back to a little-known economic "curse" that our Founding Fathers warned our elected officials about … a curse that was recently triggered.
And although our future may seem bleak, as Davidson says, "There is no need to fall victim to the future. If you are on the right side of what's ahead, you could seize opportunities that come along once, maybe twice, in a lifetime."
Perhaps most importantly, in this new video presentation, Davidson reveals what he and his family are doing to prepare right now. (It's unconventional and even controversial, but proven to work.)
While Davidson intended the video for a private audience only, original viewers leaked it out and now thousands view this video every day.
One anonymous viewer wrote: "Davidson uses clear evidence that spells out the looming collapse, and he does it in a simple language that anyone can understand." (Indeed, Davidson uses a sandcastle, a $5 bill, and straightforward analogies to prove his points.)
4. 'Canada Free Press'
The Rising of the Beast: TPP is the planned Communist Utopian dream
By Doug Hagmann -- Bio and Archives June 10, 2015
The Trans-Pacific Partnership (TPP) and its agent of tyrannical empowerment, the Trade Promotion Authority (TPA) exists today as the most overt and sinister example of the Communist utopian dream of a one world government.
The "conspiracy theory" detailing the establishment of a "New World Order" where national sovereignty, the destruction of the middle class and ultimate enslavement of all people except the global elite remains a conspiracy, but is no longer a theory to be ridiculed. Its final stages are being put into place for all to see, or at least those who have eliminated the corporate media from their daily diet of disinformation, deception and distortion.
Due in large part to a media captured and controlled by global corporate interests, and the unabashed secrecy that surrounds this "trade" agreement, most people are in the dark about the intent and consequences of the TPP and the TPA. Moreover, there is deliberate obfuscation of the terms being used and the insincere attempts to legitimize the need for the TPA, which was once known as "Fast Track Negotiating Authority."
Although the TPP is being constructed in secret and disclosure of its contents is a criminal offense, it would seem reasonable to argue that no one knows exactly what it contains. That is only partially true. There have been several leaks and allegations by those privy to the voluminous document that it extends well beyond trade and is more of an international treaty that will adversely impact our national sovereignty and individual rights.
Special: Brain Booster Too Effective, Should It Be Banned?
The Trade Promotion Authority (TPA) is being promoted as a measure that will compel the President into compliance and transparency with Congress, and, ultimately, the American people. At least that's the reason given by presidential hopeful Ted Cruz, for example, a proponent of the TPA, as cited by his campaign and echoed by his supporters. But is this assertion accurate, or is it being used to justify the transference of power and facilitate a global government?
Clarifying the Terminology: TPP and TPA
The Trade Promotion Authority (TPA): The Trade Promotion Authority (TPA) was created by the Nixon administration (along with globalist Henry Kissinger) as a temporary yet extremely controversial transfer of authority from the Congress to the President, giving the President the power and authority to negotiate international agreements. Fast Track Negotiating Authority, as it was formerly known, prohibits Congress from amending (or filibustering) any trade deal created by the President. It was first written into the Trade Act of 1974, Section 151–154 (19 U.S.C. 2191–2194) and passed by Congress. Set to expire in 1980, it was extended for another eight years under the Trade Agreements Act of 1979.
In 1988, the Fast Track Negotiating Authority was renewed again, this time serving as the mechanism that ushered in the General Agreement on Tariffs and Trade (GATT), the World Trade Organization (WTO), and ultimately the North American Free Trade Agreement (NAFTA) and the U.S.-Canada Free Trade Agreement (CAFTA). Note that this was the general time period of the George H.W. Bush administration.
<中略>
Using that same wide-angle lens, we begin to gain some clarity about domestic matters of importance and controversy. For example, we wonder why America's southern border remains wide open and illegal aliens flood into the United States without molestation by federal law enforcement. Some ascribe it to incompetence while others merely politicize the matter, making it all about increasing the number of "democratic voters." When viewed in the context of the TPP or a global government, it makes much more sense as the culture of America must be demographically altered, not preserved.
We look at the orchestrated killing of the U.S. Dollar, an issue about which I've previously written. When viewed by itself, it makes little sense why the leaders of our country would want to kill off our national currency. In the context of the establishment of a one world government, however, it fits well into the larger agenda of a one world monetary system, a necessary component of the "New World Order."
The TPP is indeed a Trojan Horse, and its implementation is the culmination of decades and even centuries of planning in secret, by the power elite who, regardless of their political affiliation, are pushing the Communist utopian dream against the will of the American people.
We are looking at the modern day version of Plato's Republic, or as author Paul McGuire has well documented through his writings, the synthesis of the beliefs of Plato, Karl Marx and Adolph Hitler, filtered and refined through the work of Fabian Socialists and those of like minds.
For the fate of our nation, the sake of our children and future generations, the TPP must be stopped and those behind it exposed for what and who they are. Some will say it's too late. Regardless, is it not our duty to try? For the agenda is much greater, the battle is much bigger, and the stakes are much higher than what is obvious.
When the day of our judgment arrives, will we hear "well done my good and faithful servant?" Or will we stand before God, and be asked why we did nothing when we still had the chance?
It's time to act, not just for this battle, this war against our freedoms and the future of our country, but for the sake of future generations. It is up to you whether your children, their children and all future generations will remember you with admiration as having the will, the courage, and the integrity to stand up for truth and the preservation of the rights bestowed upon us by Almighty God, or hold you in contempt for failing to act when you still had the chance.
Who will fight the Beast?